Free Container Shipping Cost Calculator
Want to know your container shipping costs? Use our free calculator to get instant 20' and 40' container shipping cost estimates! Get a clear understanding of your shipping expenses and plan your logistics with confidence.
How to calculate your container costs and determine your freight rates, instantly.
Our free container shipping calculator delivers accurate container rate estimates. Just tell us about your shipment to get an estimate from the world's largest freight rate database. Then join Freightos to compare, book, and manage your upcoming shipments using our freight rate calculator.
The digital freight shipping platform with a free container shipping cost calculator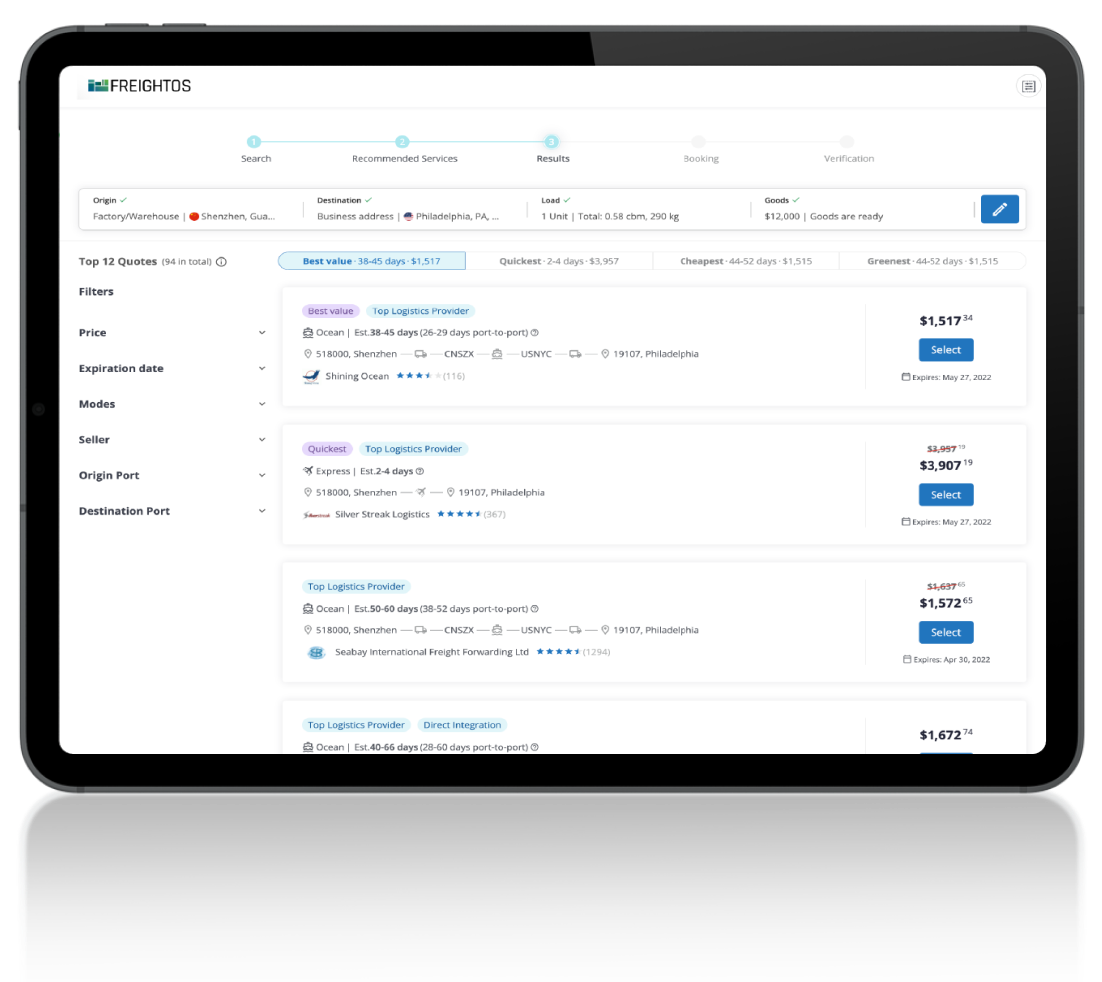 Instantly compare air, ocean, and trucking freight quotes from 75+ providers with the perfect balance of price and transit time.
Refreshingly easy logistics management with milestone tracking and proactive issue resolution from vetted providers you can trust.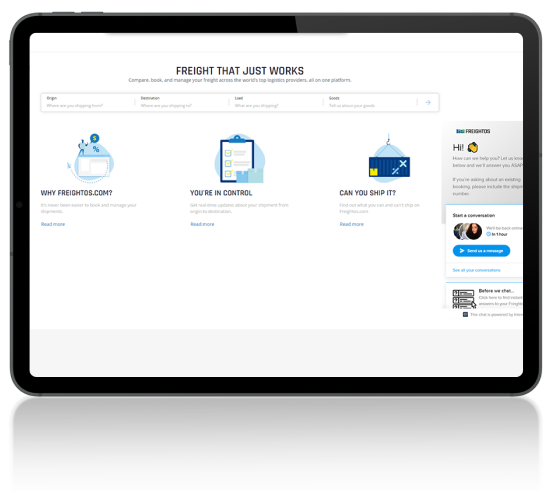 Our Freight Team is available to help with every step of your shipment process, from documentation to delivery specifics.
International container shipping rates
There are many factors that determine the cost of FCL (full container load) container shipping. These factors will impact your shipping container transport cost and ultimately how much it'll cost to ship a container overseas.

Here are some of the most important ones:
Your shipping route.
An international container being sent from Shanghai to Los Angeles, for example, is always going to be less costly to ship than one being sent on a less common route.
The size of your container.
The standard container dimensions are 20 and 40 feet. But there are also other variations, including different sizes and refrigerated units.
Supply and demand.
The global freight industry is dictated by basic economics. During the busiest shipping seasons, container rates go up – sometimes substantially.
Container Shipping Rates Chart and Prices
Below is a port-to-port container shipping rates chart for cost ranges of common international shipping destinations (from Shanghai, China):
| | | |
| --- | --- | --- |
| Destination Country | 20' Container | 40' Container |
| United States (Los Angeles) | $1,236 | $1,654 |
| United States (New York) | $2,231 | $3,075 |
| United Kingdom (Felixstowe) | $1,320 | $2,005 |
| Germany (Bremerhaven) | $983 | $1,759 |
| Australia (Melbourne) | $988 | $1,479 |
You can view live international freight rates, prices, and trends, updated daily from the world's largest freight rate index on the Freightos Baltic Index (FBX).
Week of November 15th, 2023 Container Shipping Rates and Prices
Ocean rates – Freightos Baltic Index:
Asia-US West Coast prices (FBX01 Weekly) increased 6% to $1,711/FEU.
Asia-US East Coast prices (FBX03 Weekly) climbed 3% to $2,421/FEU.
Asia-N. Europe prices (FBX11 Weekly) increased 11% to $1,381/FEU.
Asia-Mediterranean prices (FBX13 Weekly) climbed 1% to $1,551/FEU.
Ocean Freight Rates and Trends:
Stable overall rates after Golden Week, despite the holiday backlog.
Declines in rates since August due to reduced volumes and overcapacity.
Capacity management measures taken by carriers.
23% of deployed capacity blanked in the transpacific lane for October, leading to lower rates but reduced reliability.
Mitigating disruptions with scheduled cancellations and route adjustments.
Israel Ocean and Inland Logistics:
Operations continue amid the ongoing war.
Import container rates in line with regional rates.
Congestion was reported due to labor shortages, security concerns, and a war risk premium.
Air Cargo Trends:
Flight cancellations to/from Israel by airlines.
Israeli air cargo export rates to Europe and the US increased by 20% or more.
High rates from China to the US and Europe due to increased volumes and a shift to the spot market.
Ongoing pessimism about a sustained air cargo rebound.
As a marketplace for international container shipping, Freightos.com leverages volumes of live pricing data from vetted logistics providers on our platform.
Use the cost calculator and keep up to date with container shipping pricing trends to get a better idea of what your total landed costs will be.
China – N. America weekly prices decreased 3% to $5.56/kg
China – N. Europe weekly prices fell 20% to $3.38/kg.
N. Europe – N. America weekly prices climbed 1% to $1.84/kg.
How much does it cost to ship 20ft and 40ft containers?
When comparing prices for container shipping and transport, the size of the container will affect the price.
While there are over a dozen different-sized containers, 20-foot (TEU) and 40-foot (FEU) containers are the most frequently used.
20-foot container shipping costs:
What fits in a TEU will determine the cost of shipping. The cost also depends on the type of goods transported and how efficiently these can be packed and loaded into the container.
The dimensions of a TEU are as follows:
Length: 19.4 ft (5.9 m)
Width: 7.7 ft (2.35 m)
Height: 7.9 ft (2.39 m)
Therefore, the total cubic capacity of a TEU is 1,172 cu ft (33.2 m3) and the payload capacity is 55,126.9 lbs (25,000 kg).
This means that a 20-ft container can generally accommodate 9-10 standard pallets.
40-foot container shipping costs:
An FEU has double the capacity of a TEU but is not charged at double the price.
If you want to ship a 20-foot container instead of a 40-foot container, it's worth noting that the latter usually costs just 20-25% more than the former.
These are the dimensions of a FEU:
Length: 39.5 ft (12.03 m)
Width: 7.7 ft (2.35 m)
Height: 7.9 ft (2.39 m)
The total cubic capacity of an FEU is 2,389 cu ft (67.7 m3) and the payload capacity is 61,200 lbs (27,600 kg).
This means you can fit between 20-21 standard pallets in an FEU.
How are container shipping prices, rates & transport costs calculated?
Container shipping rates and prices are determined by the form of the cargo, the mode of transport, the weight of your goods, and the distance and popularity of the delivery destination from the point of origin.
Understanding the total cost of importing or exporting your goods is vital to determining the total landed cost of the goods and what your bottom line will be. Check out the Container Shipping Cost Calculator to help you estimate what it will cost to ship your goods.
How much does it cost to ship from China/Central Asia to the United States?
The cost of container shipping initially increased dramatically with the pandemic but fell sharply over the course of 2022.
Rates in early 2023 have dipped below $2,500, bringing them back to levels not seen since June 2020.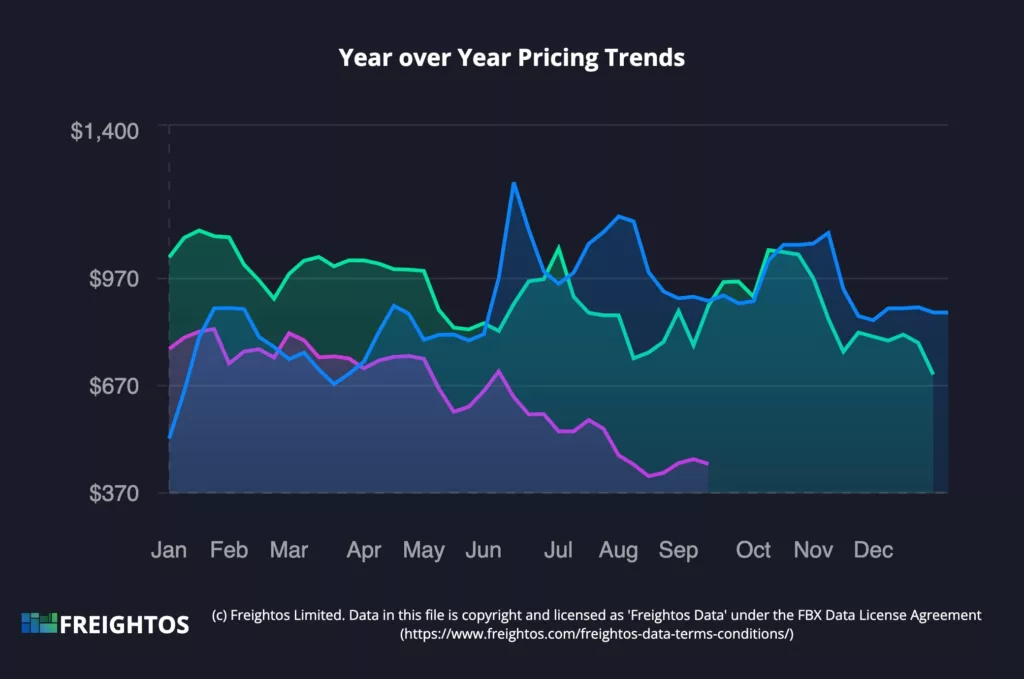 Ready to start comparing rates instantly across multiple forwarders?